Details
Prey Xbox One Video Game
Pre-Order Prey and receive the exclusive Cosmonaut Shotgun Pack. The pre-order bonus consists of Morgan Yu's family heirloom Margrave shotgun and tools to fight threats aboard Talos I including: three Neuromods players can spend to acquire new abilities, two Medkits, a Fabrication plan to create the Shotgun and Ammo, a starter kit for building tools and weapons, and a unique upgrade to help players preserve their limited resources.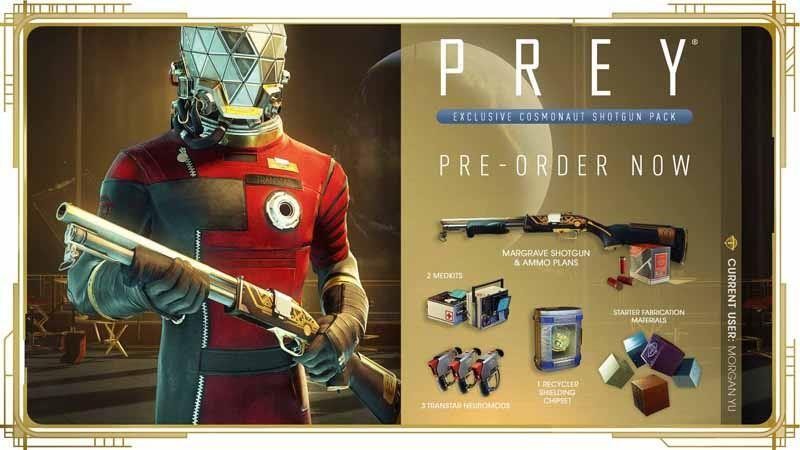 In Prey, you awaken aboard Talos I, a space station orbiting the moon in the year 2032. You are the key subject of an experiment meant to alter humanity forever - but things have gone terribly wrong. The space station has been overrun by hostile aliens and you are now being hunted. As you dig into the dark secrets of Talos I and your own past, you must survive using the tools found on the station, your wits, weapons, and mind-bending abilities.
The first thing you'll notice is that Talos I looks like no other space station – in movies or in games. The richly appointed interiors have elements of everything from art deco to modernism, with lavish details and warm touches. There's a reason for this. The station was built over the course of generations, starting in the Kennedy era, and extending into the near future.
Features:
Mimic Matter.
Take the form of a variety of objects in the game. Use it creatively to stealth around obstacles, trick hostile enemies or – as shown in the demo – gain access to areas otherwise blocked off.
Superthermal.
Blast your foes with superheated plasma that deals fire damage within a defined area.
Kinetic Blast.
Another area-of-effect power, Kinetic Blast deals physical-based damage. Also useful to propel aliens or items.
Leverage.
Pick up heavy objects to clear a path. Or weaponize the object by tossing it at a foe.
Additional Information
| | |
| --- | --- |
| Item Id | VG125409 |
| Release Date | 5 May 2017 |
| Brand | Bethesda |
| Warranty | 1 Year |
| Platform | Xbox One |
| Rating | 18+ |
| Dimension | No |
| Weight KG | 0.1000 |
| Barcode | 5055856411901 |
| Product Code (MPN) | No |
| Size | N/A |
| Colour | N/A |
| Specification | No |
You may also be interested in the following product(s)
Review and collect 3000 points.

Price £54.99

Regular Price: £59.99

Review and collect 3000 points.