PS3 500GB UK Black Console + Space Marine Special Edition PS3 Game
The ultimate in gaming and home entertainment, PlayStation®3 transports creates brand new experiences for the whole family. Go on incredible adventures, watch movies in stunning High Definition, dive into a world of entertainment with free access to PlayStation®Network and more. One console, unlimited possibilities.
In the box:
PS3 500GB Super Slim Console
Wireless Dualshock 3 Controller
AC power cord
AV cable
USB cable
Space Marine Special Edition PS3 Game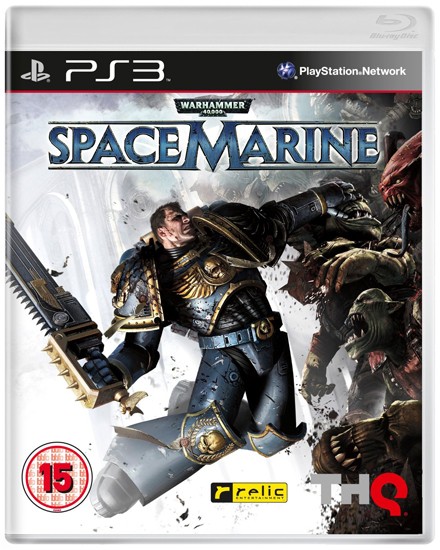 Space Marine Special Edition includes :
Space Marine Hand book
Golden Relic Chainsword
This pre-order item also includes a Redeem code that will be required in order that players can download the golden Chainsword weapon for use in multiplayer games. Access to the Playstation Network Stream is required in order for players to redeem their Golden Relic Chainsword.
In Warhammer® 40,000®: Space Marine® you are Captain Titus of the Ultramarines, humanity's last hope for survival in a war-ridden future.
Step into the armour of this superhuman warrior and use a lethal combination of deadly weapons to crush overwhelming alien forces.
Fight against the savage Orks and the unholy forces of Chaos in a brutally violent world based on the richest science fiction fantasy ever created.
Warhammer 40,000: Space Marine on PS3 Features:
Storm Into Battle – Step fearlessly into the heart of combat as an unstoppable Space Marine. Never hide, never cower, just purge all that stand in your way.
Unleash Visible Violent Death – Using an innovative new combat system, switch seamlessly from high-caliber ranged weapons to devastating close-combat strikes. Taking out an enemy has never been so satisfying.
Experience the dark future of Warhammer 40,000 – Jump into a rich universe of awe-inspiring landscapes, deadly enemies, immense battles and ruthless annihilation.
Write Your Own Review
You're reviewing: PS3 500GB UK Black Console + Space Marine Special Edition PS3