Sprocket, Sonic Boom, Stump Smash
Skylanders Spyro's Adventure Triple Pack
Many Thousands of years ago, Skylanders Giants fought epic battles in Skylands, but were banished to Earth. Now, with a new threat looming, its time to bring them back to join forces with the Skylanders. Only you can put them on the Portal of Power to unleash their strength in the ultimate battle to save Skylands.
Triple Character Pack includes:
3 - Skylanders Character Interaction Figures
3 - Trading Cards
3 - Sticker Sheets
3 - Web Codes
Characters
1. Sprocket
2. Stump Smash

3. Sonic Boom
*This pack contains characters only - Starter pack required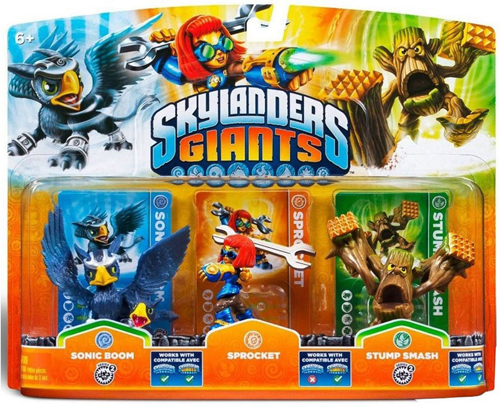 Sprocket's Story
Sprocket was raised with all the privileges of a rich, proper Goldling. But she cared little for fancy things. Instead, she spent most of her time growing up in her uncle's workshop, learning how to build and fix his many mechanical inventions. But everything changed on the day her uncle mysteriously vanished. When she eventually discovered that Kaos had been behind his disappearance, she constructed a battle suit and went after him, leaving the luxury and comfort of her family's wealth behind. From that moment on, Sprocket was dedicated to fighting the forces of evil, while never losing hope that she would be reunited with her beloved uncle.
Sonic Boom's Story
Long ago, Sonic Boom took refuge high atop a mountain peak in the far reaches of Skylands, hoping to keep her griffin hatchlings safe. But despite her precautions, a devious wizard tracked her down and placed a wicked curse on the griffin eggs. Once hatched, the young hatchlings can live for only mere moments before they magically return to their shells... only to be hatched again in an endless cycle. Wanting to prevent such evil from happening to others, Sonic Boom joined the Skylanders and has trained her young to defend Skylands each time they are hatched.
Stump Smash's Story
Stump Smash was once a magical tree that spent most of his time sleeping peacefully in the forests of Skylands. Then one day he awoke to discover his entire forest had been chopped down and logged by trolls – himself included. His long branches were gone, leaving him with only powerful mallets for hands, which he used to smash the troll tree-cutting machines. Although still grumpy about what happened to him, Stump Smash has vowed to protect Skylands against those who would do it harm… especially trolls.
Write Your Own Review
You're reviewing: Skylanders Giants Triple Character Pack Sprocket Sonic Boom and Stump Flash