Details
uDraw Tablet Bundle with Pictionary Game
THQ extends its popular and innovative uDraw GameTablet® to HD platforms. The only creative tool of its kind the uDraw GameTablet offers endlessly imaginative and immersive hands-on gameplay. For all users – graphic designers to street artists from the skilled to the doodler - uDraw GameTablet offers limitless versatility and infinite ways to play.
On the uDraw GameTablet the only limit is your imagination.
Features
High Definition Utilizing the full capacity of Nintendo Wii users can play draw print and share their creations in HD.
Touch Screen Creativity. From pinch-and-stretch zooming to free-form finger-painting the uDraw GameTablet responds directly to your touch.
Built-In Controller Functions
Tilt Functionality' Tilt shake and jump through games with enhanced tilt and motion features.
Pressure-Sensitive Stylus The uDraw stylus offers 256 points of pressure sensitivity providing amazing freedom to bring your creations to the screen in detail.
Wireless Play Players will connect and create from the comfort of their favorite spot with wireless interaction between the uDraw and their game console.
Centre-Docked Stylus Designed with both right-handed and left handed artists and game players in mind the uDraw features a stylus attached to the center of the tablet.
Pictionary Nintendo Wii Game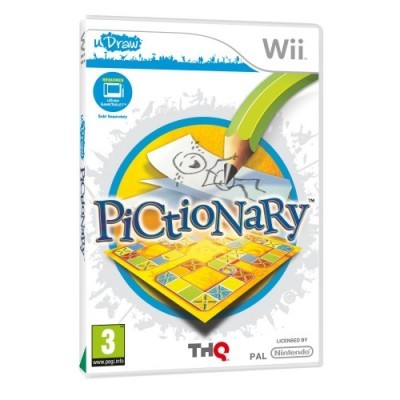 Game Description
Play Pictionary like never before with the all new uDraw GameTablet. Exciting new draw modes such as Shape It Up and Rotation Frustration turn the classic board game on its head.
With more than 3 000 clues and up to four teams that can play Pictionary becomes the ultimate party game for all ages. Artistic ability is not required to play only a little imagination. Using Pictionary with the uDraw GameTablet will bring a whole new meaning to モquick sketches and crazy guesses!
Features
More than 3 000 Clues Choose from traditional Adult Clues like Object Action and Difficult or Junior Clues like At the Zoo and Animal Houses.

Three Modes Of Play

Pictionary Play game show-style on a 3D game board. A variety of draw tools colors and brushes provide the freedom to sketching victory!

Pictionary Mania With seven new draw modes and a custom game board Pictionary Mania adds a whole new twist. New game modes include: Get It Straight Shape It Up Rotation Frustration One Line Ink Limit No Peeking and Off Hand.

Free Draw Utilize the drawing tools to create colorful masterpieces.
Additional Information
| | |
| --- | --- |
| Format | N/A |
| Item Id | H001901 |
| Release Date | No |
| Brand | Nintendo |
| Warranty | 1 Year |
| Platform | No |
| Rating | 3+ |
| Dimension | No |
| Weight KG | 0.0000 |
| Barcode | 4005209157643 |
| Product Code (MPN) | No |
| Size | No |
| Colour | No |
| Specification | No |