Details
Xbox 360 S Console (matte Black)

Xbox 360 S 250GB Removable Hard Drive

Kinect Sensor and Kinect Adventures Game (Xbox 360)

Xbox 360 Black Wireless Controller

Xbox 360 Black Headset

Xbox 360 Composite A/V cable (Standard Definition)

One Month Xbox LIVE Gold Membership

1 Year Limited Express Warranty

Formula 1 2010 Driving Game

The new, slimmer Xbox 360 in an all new black matte finish with built-in Wi-Fi, making for easy access to the wealth of entertainment on Xbox LIVE, where HD movies and TV stream in an instant. It's ready for the controller-free experiences of Kinect - you don't use a controller to play the game, you are the controller. All in all, more games, more entertainment and more fun.
Built-in Wi-Fi
The new Xbox 360 is the only console with 802.11n Wi-Fi built-in for a faster and easier connection to Xbox LIVE. Stream HD movies and TV or download games from Xbox LIVE in 1080p and 5.1 surround sound from anywhere in the house. Compatible with b/g/n networks.
Xbox LIVE
Xbox LIVE brings a world of entertainment to you. Instantly stream movies and TV from Netflix-in crystal-clear HD, or download game add-ons like new levels, characters, maps and songs. Easily jump right into online multiplayer fun and play along with friends around the world. Plus, get your favorite music from Last.fm, connect with friends on Facebook and post Tweets on Twitter. And Kinect will make your entertainment more extraordinary. Imagine controlling a movie with the wave of your hand or video chatting on your TV. Xbox LIVE is your connection to more games, entertainment and fun (paid subscription to Xbox LIVE Gold required).
Kinect Ready
Kinect brings games and entertainment to life in extraordinary new ways - no controller required. Easy to use and instantly fun, Kinect gets everyone off the couch moving, laughing and cheering. See a ball? Kick it. Want to join a friend in the fun? Simply jump in. Even control an HD movie with a wave of the hand. Featuring a dedicated, specialized port, the Xbox 360 250GB is built to connect seamlessly with the Kinect Sensor.
Xbox 360 Wireless Controller (Black)
This award-winning, high-performance wireless controller features a range of up to 30 feet and a battery life of 30 hours on two AA batteries.
Xbox 360 Headset (Black)
Chat with friends on Xbox LIVE, or team up and jump in with multiplayer game play.
More Ports
Connect more accessories and storage solutions with added USB ports. Now with a total of 5, (3 back/2 front) you'll find more places to plug and play. Plus, in addition to the standard Ethernet port and HDMI output, we've added an integrated optical audio out port for an easier connection to the booming sound of your A/V receiver.
Jump In With Microsoft Kinect

Introducing Kinect, formerly "Project Natal", a revolutionary new way to play: no controller required.
Kinect will turn YOU into the controller for games and entertainment, and it will work with every Xbox 360. Unlike 2-D cameras and controllers, Kinect tracks your full body movement in 3-D, while responding to commands, directions, even a difference of emotion in your voice.
Kinect brings games and entertainment to life in extraordinary new ways - no controller required. Easy to use and instantly fun, Kinect gets everyone off the couch moving, laughing and cheering. See a ball? Kick it. Control an HD movie with a wave of the hand. Want to join a friend in the fun? Simply jump in. With Kinect technology evaporates, letting the natural magic in all of us shine. And the best part is Kinect works with every Xbox 360*.
Kinect
With the Kinect sensor, you can experience gaming like never before. Easy to use and fun for everyone, the Kinect sensor utilises revolutionary full-body tracking to put you in the center of the fun. This amazing new technology allows the sensor to recognise your body and mirror your movements in the game, making you the controller. The sensor is compatible with every Xbox 360* and comes with a Kinect game. With Kinect Xbox 360 now has the best controller ever made - YOU.
Features
Colour VGA Motion Camera: 640x480 pixel resolution @30FPS

Depth Camera: 640x480 pixel resolution @30FPS

Array of 4 microphones supporting single speaker voice recognition

Fully compatible with all Xbox 360 models*

Revolutionary technology that includes body recognition
How does it work?
Kinect sensor. Kinect is the worlds first system to combine an RGB camera, depth sensor, multiarray microphone and custom processor running proprietary software that brings Kinect experiences to every Xbox 360 console. The Kinect sensor tracks full-body movement and individual voices, creating controller-free fun and social entertainment available only on Xbox 360.
RGB camera. Kinect has a video camera that delivers the three basic color components. As part of the Kinect sensor, the RGB camera helps enable facial recognition and more.
Depth sensor. An infrared projector combined with a monochrome CMOS sensor allows Kinect to see the room in 3-D (as opposed to inferring the room from a 2-D image) under any lighting conditions.
Multiarray microphone. Kinect has a microphone that will be able to locate voices by sound and extract ambient noise. The multiarray microphone will enable headset-free Xbox LIVE party chat and more.
Custom processor (running Microsoft proprietary software layer). A proprietary software layer makes the magic of Kinect possible. This layer differentiates Kinect from any other technology on the market through its ability to enable human body recognition and extract other visual noise.

You are the controller.
Kinect provides a whole new way to play. It uses a sensor to track your body movement and recognise your face, even listen to your voice.
Full-body tracking allows the Kinect sensor to capture your movement, from head to toe, to give players a full-body gaming experience.
Personalised play.
Kinect is smart enough to remember voices and faces and provides an in-game experience in which the playerメs face and voice are recognised. Greet and speak to characters in the game, or simply step into view of the sensor to log into Xbox LIVE and connect with friends.
use all parts of your body head, hands, feet and torso. When you're the controller, you don't just control the superhero, you are the superhero. Full-body tracking allows the Kinect sensor to capture your movement, from head to toe, to give players a full-body gaming experience.

Off-the-couch play. Kinect provides gameplay that gets you off the couch, on your feet and in the fun. Each Kinect experience is designed to get players moving, laughing, cheering and playing together. Kinect makes social gaming off-the-couch fun.
Formula 1 2010 F1 Driving Xbox 360 Game
For the first time in almost a decade a new Formula 1 game is appearing on all the home consoles and PC, as Codemasters gets ready to make their mark on the sport. Using the same graphics technology as Colin McRae: DiRT 2 and Race Driver: GRID, this is set to be the best F1 game ever.
With everything from the affect of rain on the track to media interest in your performance simulated, everything that happens in a real Formula 1 season happens in this game. But don't worry if you're not an expert racer as the game has a specially designed range of driving aids and arcade options to ensure every kind of gamer can join in the fun.
However you play the game though, whether it's in a seven season career marathon or a quick run around the Monaco circuit, this puts Forumla 1 back at the pinnacle of video game racing.
Key Features
F1 for All: No longer a PlayStation exclusive, Formula 1 returns for all formats as Codemasters unleash their most feature-packed race sim ever.
Play the Field: Play a full career mode of 3, 5 or 7 seasons, with specific goals for each of the different teams - from Ferrari to Lotus.
Gripping Weather: The most realistic weather system ever seen in a racing game, with rain falling and drying realistically and drastically affecting the performance of the cars.
Simulation Racing: Every aspect of Formula 1 is replicated in exacting detail, but less experienced racers can still choose to play in a less serious arcade style mode.
Research & Development: You're not the only one working through the season, as your team constantly comes up with new car upgrades that improve your car from race to race.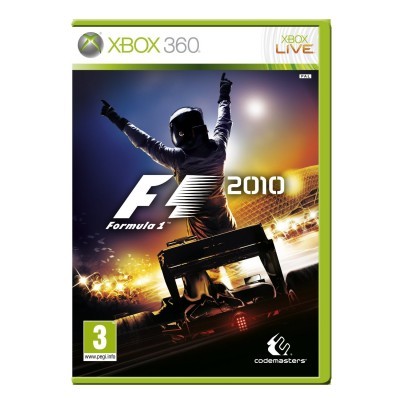 FEATURES:
All the cars, all the stars. Fully licensed, F1 2010 features all the drivers and teams set to contest the 2010 FIA Formula One World Championship, including Formula One Drivers' World Champions Jenson Button, Lewis Hamilton, Fernando Alonso and Michael Schumacher.
Every circuit, beautifully realised. Race wheel to wheel on all 19 of the 2010 tracks, each modelled with exceptional attention to detail and jaw-dropping visuals.
Be the driver, live the life. There is more to being a Formula One driver than being the fastest person on track and F1 2010 is the first game to allow players to experience the exclusive world of F1 like never before.
Fully dynamic weather affects your strategy, performance and delivers stunning visual effects. F1 2010 features the most advanced weather system in any racing game.
Build a career. Whether players wish to work their way up from the bottom, switching teams as they go, or build a dynasty with their chosen team, gamers can fully realise their aspirations in F1 2010's extensive and challenging career mode.
The full pit lane, featuring each team in their various stages of strategy, becomes home to tense and exciting moments of drama as the drivers and crew work to return their car to the race as fast as possible.
Full online multiplayer. F1 2010 will include extensive online multiplayer options allowing players to take on their friends and the rest of the world in a range of race modes.
Additional Information
| | |
| --- | --- |
| Format | N/A |
| Item Id | H001761 |
| Release Date | N/A |
| Brand | Microsoft |
| Warranty | 1 Year |
| Platform | No |
| Rating | 3+ |
| Dimension | N/A |
| Weight KG | 7.0000 |
| Barcode | N/A |
| Product Code (MPN) | N/A |
| Size | N/A |
| Colour | N/A |
| Specification | N/A |