Details
Xbox 360 S Console (matte Black)

Xbox 360 S 250GB Removable Hard Drive

Kinect Sensor and Kinect Adventures Game (Xbox 360)

Xbox 360 Black Wireless Controller

Xbox 360 Black Headset

Xbox 360 Composite A/V cable (Standard Definition)

One Month Xbox LIVE Gold Membership

1 Year Limited Express Warranty

Mafia 2 Game

The new, slimmer Xbox 360 in an all new black matte finish with built-in Wi-Fi, making for easy access to the wealth of entertainment on Xbox LIVE, where HD movies and TV stream in an instant. It's ready for the controller-free experiences of Kinect - you don't use a controller to play the game, you are the controller. All in all, more games, more entertainment and more fun.
Built-in Wi-Fi
The new Xbox 360 is the only console with 802.11n Wi-Fi built-in for a faster and easier connection to Xbox LIVE. Stream HD movies and TV or download games from Xbox LIVE in 1080p and 5.1 surround sound from anywhere in the house. Compatible with b/g/n networks.
Xbox LIVE
Xbox LIVE brings a world of entertainment to you. Instantly stream movies and TV from Netflix-in crystal-clear HD, or download game add-ons like new levels, characters, maps and songs. Easily jump right into online multiplayer fun and play along with friends around the world. Plus, get your favorite music from Last.fm, connect with friends on Facebook and post Tweets on Twitter. And Kinect will make your entertainment more extraordinary. Imagine controlling a movie with the wave of your hand or video chatting on your TV. Xbox LIVE is your connection to more games, entertainment and fun (paid subscription to Xbox LIVE Gold required).
Kinect Ready
Kinect brings games and entertainment to life in extraordinary new ways - no controller required. Easy to use and instantly fun, Kinect gets everyone off the couch moving, laughing and cheering. See a ball? Kick it. Want to join a friend in the fun? Simply jump in. Even control an HD movie with a wave of the hand. Featuring a dedicated, specialized port, the Xbox 360 250GB is built to connect seamlessly with the Kinect Sensor.
Xbox 360 Wireless Controller (Black)
This award-winning, high-performance wireless controller features a range of up to 30 feet and a battery life of 30 hours on two AA batteries.
Xbox 360 Headset (Black)
Chat with friends on Xbox LIVE, or team up and jump in with multiplayer game play.
More Ports
Connect more accessories and storage solutions with added USB ports. Now with a total of 5, (3 back/2 front) you'll find more places to plug and play. Plus, in addition to the standard Ethernet port and HDMI output, we've added an integrated optical audio out port for an easier connection to the booming sound of your A/V receiver.
Jump In With Microsoft Kinect

Introducing Kinect, formerly "Project Natal", a revolutionary new way to play: no controller required.
Kinect will turn YOU into the controller for games and entertainment, and it will work with every Xbox 360. Unlike 2-D cameras and controllers, Kinect tracks your full body movement in 3-D, while responding to commands, directions, even a difference of emotion in your voice.
Kinect brings games and entertainment to life in extraordinary new ways - no controller required. Easy to use and instantly fun, Kinect gets everyone off the couch moving, laughing and cheering. See a ball? Kick it. Control an HD movie with a wave of the hand. Want to join a friend in the fun? Simply jump in. With Kinect technology evaporates, letting the natural magic in all of us shine. And the best part is Kinect works with every Xbox 360*.
Kinect
With the Kinect sensor, you can experience gaming like never before. Easy to use and fun for everyone, the Kinect sensor utilises revolutionary full-body tracking to put you in the center of the fun. This amazing new technology allows the sensor to recognise your body and mirror your movements in the game, making you the controller. The sensor is compatible with every Xbox 360* and comes with a Kinect game. With Kinect Xbox 360 now has the best controller ever made - YOU.
Features
Colour VGA Motion Camera: 640x480 pixel resolution @30FPS

Depth Camera: 640x480 pixel resolution @30FPS

Array of 4 microphones supporting single speaker voice recognition

Fully compatible with all Xbox 360 models*

Revolutionary technology that includes body recognition
How does it work?
モKinectヤ sensor. モKinectヤ is the worldメs first system to combine an RGB camera, depth sensor, multiarray microphone and custom processor running proprietary software that brings モKinectヤ experiences to every Xbox 360 console. The モKinectヤ sensor tracks full-body movement and individual voices, creating controller-free fun and social entertainment available only on Xbox 360.
RGB camera. モKinectヤ has a video camera that delivers the three basic color components. As part of the モKinectヤ sensor, the RGB camera helps enable facial recognition and more.
Depth sensor. An infrared projector combined with a monochrome CMOS sensor allows モKinectヤ to see the room in 3-D (as opposed to inferring the room from a 2-D image) under any lighting conditions.
Multiarray microphone. モKinectヤ has a microphone that will be able to locate voices by sound and extract ambient noise. The multiarray microphone will enable headset-free Xbox LIVE party chat and more.
Custom processor (running Microsoft proprietary software layer). A proprietary software layer makes the magic of モKinectヤ possible. This layer differentiates モKinectヤ from any other technology on the market through its ability to enable human body recognition and extract other visual noise.

You are the controller.
Kinect provides a whole new way to play. It uses a sensor to track your body movement and recognise your face, even listen to your voice.
Full-body tracking allows the Kinect sensor to capture your movement, from head to toe, to give players a full-body gaming experience.
Personalised play.
Kinect is smart enough to remember voices and faces and provides an in-game experience in which the playerメs face and voice are recognised. Greet and speak to characters in the game, or simply step into view of the sensor to log into Xbox LIVE and connect with friends.
use all parts of your body ラ head, hands, feet and torso. When you're the controller, you don't just control the superhero, you are the superhero. Full-body tracking allows the Kinect sensor to capture your movement, from head to toe, to give players a full-body gaming experience.

Off-the-couch play. Kinect provides gameplay that gets you off the couch, on your feet and in the fun. Each Kinect experience is designed to get players moving, laughing, cheering and playing together. Kinect makes social gaming off-the-couch fun.
Mafia 2 Xbox 360 Game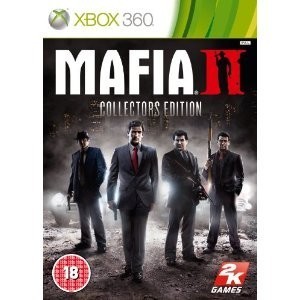 high quality, tearヨresistant paper, and the Made Man Pack downloadable content which includes two new suits for Vito. Mafia II is a third-person, sandbox shooter that provides a look into the dark and unforgiving world of the Mob. Expanding on the original hit, Mafia, that captivated more than 2 million gamers around the world, this new incarnation takes players even deeper into the Mafia with a mature and exciting experience that allows players to explore the gameworld as they wish and immerses them in it like never before. Features include complete gangster movie experience, a wide variety of combatラincluding vehicularラa mood setting soundtrack and much more.
Story
Born the son of a poor immigrant, Vito is a beaten down Italian American who is trying to secure his piece of the American Dream. Looking to escape the life of poverty that consumed his childhood, Vito is soon swayed by the lure of power and wealth that a life of Organized Crime can bring. A petty criminal his whole life, Vito, along with his childhood friend, Joe, will descend into the world of organized crime. Together, they will work to prove themselves to the Mob as they try to make their names on the streets of a cold and unforgiving city.
Next-Gen 2K Czech game Engine
Powered by 2K Czech's next-generation engine built specifically for Mafia II, players experience the true evolution of the Mafia game that defined a genre. Gunfights, hand-to-hand combat and vehicular exploration feature new depth and dimension that allow players to experience the world of Mafia II in a way that will keep them coming back for more.
Key Game Features
Gangster-Movie Experience - Through strong, authentic characterization and compelling narrative, the mature storyline will make you understand the pull and impossible escape of life in the Mob.
Action-Packed Gameplay - Take part in car-to-car gunfights, hand-to-hand combat and gunplay, forming an intense and exciting experience.
All-New Engine Powers the Next Generation of Mob Video Games - 2K Czech's next-generation engine, allows gamers to travel from outdoor environments to intricately designed interiors without the need for loading times.
Authentic Script from the Writer of Mafia I - The writing team from Mafia I returns to deliver another powerhouse script that portrays a tale of survival, camaraderie and the pitfalls of pursuing the American Dream.
Music as Environment - Players will be immersed in the Golden Era of America as Mafia II features tracks from some of the era's most influential artists.
Additional Information
| | |
| --- | --- |
| Format | N/A |
| Item Id | H001641 |
| Release Date | N/A |
| Brand | Microsoft |
| Warranty | 1 Year |
| Platform | No |
| Rating | 18+ |
| Dimension | N/A |
| Weight KG | 7.0000 |
| Barcode | N/A |
| Product Code (MPN) | N/A |
| Size | N/A |
| Colour | N/A |
| Specification | N/A |