Details
The new, slimmer Xbox 360 Console 250 GB in an all new black matte finish with built-in Wi-Fi, making for easy access to the wealth of entertainment on Xbox LIVE, where HD movies and TV stream in an instant. It's ready for the controller-free experiences of Kinect - you don't use a controller to play the game, you are the controller. A 250 GB hard drive means you'll have plenty of space to store your favorite games and movies. All in all, more games, more entertainment and more fun.
Built-in Wi-Fi
The new Xbox 360 is the only console with 802.11n Wi-Fi built-in for a faster and easier connection to Xbox LIVE. Stream HD movies and TV or download games from Xbox LIVE in 1080p and 5.1 surround sound from anywhere in the house. Compatible with b/g/n networks.
Xbox LIVE
Xbox LIVE brings a world of entertainment to you. Instantly stream movies and TV from Netflix-in crystal-clear HD, or download game add-ons like new levels, characters, maps and songs. Easily jump right into online multiplayer fun and play along with friends around the world. Plus, get your favorite music from Last.fm, connect with friends on Facebook and post Tweets on Twitter. And Kinect will make your entertainment more extraordinary. Imagine controlling a movie with the wave of your hand or video chatting on your TV. Xbox LIVE is your connection to more games, entertainment and fun (paid subscription to Xbox LIVE Gold required).
Xbox 360 Console with 250GB Hard Drive
The internal, removable 250GB hard drive offers plenty of space to save games, HD TV and movies, music, pictures, game add-ons, demos and more.
Kinect Ready
Kinect brings games and entertainment to life in extraordinary new ways - no controller required. Easy to use and instantly fun, Kinect gets everyone off the couch moving, laughing and cheering. See a ball? Kick it. Want to join a friend in the fun? Simply jump in. Even control an HD movie with a wave of the hand. Featuring a dedicated, specialized port, the Xbox 360 250GB is built to connect seamlessly with the Kinect Sensor (sold seperately).
Xbox 360 Wireless Controller (Black)
This award-winning, high-performance wireless controller features a range of up to 30 feet and a battery life of 30 hours on two AA batteries.
Xbox 360 Headset (Black)
Chat with friends on Xbox LIVE, or team up and jump in with multiplayer game play.
More Ports
Connect more accessories and storage solutions with added USB ports. Now with a total of 5, (3 back/2 front) you'll find more places to plug and play. Plus, in addition to the standard Ethernet port and HDMI output, we've added an integrated optical audio out port for an easier connection to the booming sound of your A/V receiver.
Box Contains
Xbox 360 S Console (matte Black)
Xbox 360 S 250GB Removable Hard Drive
Xbox 360 Black Wireless Controller
Xbox 360 Black Headset
Xbox 360 Composite A/V cable (Standard Definition)
One Month Xbox LIVE Gold Membership
1 Year Limited Express Warranty
Green Lantern: Rise of the Manhunters Xbox 360 Game
Game Overview
The Manhunters are an android race, originally created by the Guardians of the Universe to serve as the first interstellar police force. The Manhunters became more obsessed with administering punishment than serving justice, forcing the Guardians to dissolve their ranks. The few Manhunters that survived fled into exile and the Guardians founded a new elite police force called the Green Lantern Corps and armed its members with specially crafted power rings. Now the Manhunters are back and out for revenge, readying their forces for a war against the Guardians and the Green Lantern Corps. Faced with destruction, the Corps is looking to you as the newest recruit, gifted but cocky test pilot Hal Jordan, to protect peace and preserve justice. Building on the anticipation of Warner Bros' feature film, in theaters June 17, 2011, Green Lantern: Rise of the Manhunters includes the likeness and voice talent of Ryan Reynolds as Hal Jordan, who is the star of the upcoming motion picture.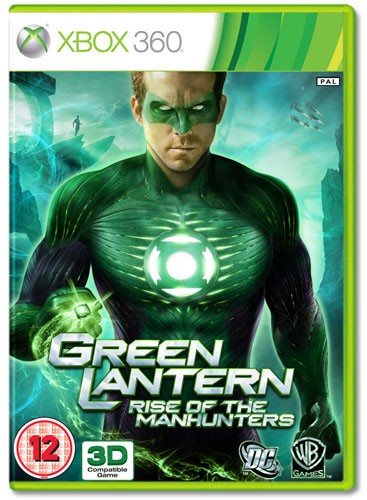 Features
The Green Lantern Power Ring will create a spectacular range of "hard-light" constructs including a gatling gun, giant fists and much more, all of which can be linked together to form an endless number of combinations.
Join forces with a friend to play as Hal Jordan or Sinestro to battle the Manhunters, with the ability to drop in or out at will.
Dodge, blast and destroy legions of enemies as you soar across the universe in battles of intergalactic scope.
Additional Information
| | |
| --- | --- |
| Format | N/A |
| Item Id | H00134 |
| Release Date | N/A |
| Brand | Microsoft |
| Warranty | 1 Year |
| Platform | No |
| Rating | 12+ |
| Dimension | N/A |
| Weight KG | 7.0000 |
| Barcode | N/A |
| Product Code (MPN) | N/A |
| Size | N/A |
| Colour | N/A |
| Specification | N/A |