Details
The new, slimmer Xbox 360 Console 250 GB in an all new black matte finish with built-in Wi-Fi, making for easy access to the wealth of entertainment on Xbox LIVE, where HD movies and TV stream in an instant. It's ready for the controller-free experiences of Kinect - you don't use a controller to play the game, you are the controller. A 250 GB hard drive means you'll have plenty of space to store your favorite games and movies. All in all, more games, more entertainment and more fun.
Built-in Wi-Fi
The new Xbox 360 is the only console with 802.11n Wi-Fi built-in for a faster and easier connection to Xbox LIVE. Stream HD movies and TV or download games from Xbox LIVE in 1080p and 5.1 surround sound from anywhere in the house. Compatible with b/g/n networks.
Xbox LIVE
Xbox LIVE brings a world of entertainment to you. Instantly stream movies and TV from Netflix-in crystal-clear HD, or download game add-ons like new levels, characters, maps and songs. Easily jump right into online multiplayer fun and play along with friends around the world. Plus, get your favorite music from Last.fm, connect with friends on Facebook and post Tweets on Twitter. And Kinect will make your entertainment more extraordinary. Imagine controlling a movie with the wave of your hand or video chatting on your TV. Xbox LIVE is your connection to more games, entertainment and fun (paid subscription to Xbox LIVE Gold required).
Xbox 360 Console with 250GB Hard Drive
The internal, removable 250GB hard drive offers plenty of space to save games, HD TV and movies, music, pictures, game add-ons, demos and more.
Kinect Ready
Kinect brings games and entertainment to life in extraordinary new ways - no controller required. Easy to use and instantly fun, Kinect gets everyone off the couch moving, laughing and cheering. See a ball? Kick it. Want to join a friend in the fun? Simply jump in. Even control an HD movie with a wave of the hand. Featuring a dedicated, specialized port, the Xbox 360 250GB is built to connect seamlessly with the Kinect Sensor (sold seperately).
Xbox 360 Wireless Controller (Black)
This award-winning, high-performance wireless controller features a range of up to 30 feet and a battery life of 30 hours on two AA batteries.
Xbox 360 Headset (Black)
Chat with friends on Xbox LIVE, or team up and jump in with multiplayer game play.
More Ports
Connect more accessories and storage solutions with added USB ports. Now with a total of 5, (3 back/2 front) you'll find more places to plug and play. Plus, in addition to the standard Ethernet port and HDMI output, we've added an integrated optical audio out port for an easier connection to the booming sound of your A/V receiver.
Box Contains
Xbox 360 S Console (matte Black)
Xbox 360 S 250GB Removable Hard Drive
Xbox 360 Black Wireless Controller
Xbox 360 Black Headset
Xbox 360 Composite A/V cable (Standard Definition)
One Month Xbox LIVE Gold Membership
1 Year Limited Express Warranty
MX Vs ATV: Alive, Xbox 360 Game
Feel it! Own it!
Own the competition as you wrestle for position with tightly contested racing in the fifth iteration of the MX vs. ATV franchise. Feel the realism of the revolutionary real-world physics engine which has defined the racing genre. Live the sport as Alive captures the spectacle of motocross and the essence of competitive racing while providing the best riders and gear from the latest manufacturers.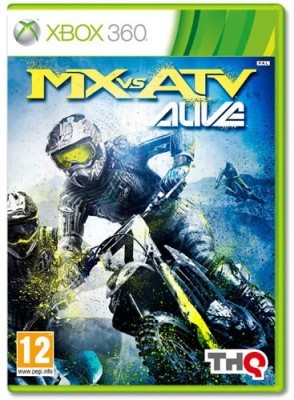 The Ultimate Motocross Racing Experience!
We are delivering the best MX vs. ATV game yet. With respect to gameplay we are building upon the franchise's physics engine to deliver an enhanced racing experience in MX vs. ATV Alive that is easier to play.
The difference is how we are approaching features such as modes and tracks. This is where we are letting gamers choose the game that they want to play. We'll offer the most popular modes and if gamers want to add even more of a particular mode, they can do so through downloadable content. Instead of us choosing how much of each mode to put in the game - gamers make this choice.
Splitting out the content allows us to release the game sooner for the fan.
We also have extensive downloadable content we plan to make available after launch that we'll be unveiling in February. We will have a dedicated online store going live first day of launch that will consist of rider gear, tracks, modes, etc.
Features
Definitive Realism
Experience total control of both rider and bike with easier controls as part of the enhanced Rider Reflex
An advanced real-time deformation continuously changes the track beneath you with every lap
Wreck-avoidance lets you correct collisions and landings to race like a pro
Elbow to elbow action:
Go bar-to-bar with in-your-face motocross racing
Rider-to-rider collisions and win/loss conditions through a new bar banging system
Awe-inspiring sports experience: Real riders, real gear, and real licensors to be announced
Event types:
Compete in the Nationals and claim the Motocross Championship title
Additional Information
| | |
| --- | --- |
| Format | N/A |
| Item Id | H00139 |
| Release Date | N/A |
| Brand | Microsoft |
| Warranty | 1 Year |
| Platform | No |
| Rating | 12+ |
| Dimension | No |
| Weight KG | 7.0000 |
| Barcode | N/A |
| Product Code (MPN) | N/A |
| Size | N/A |
| Colour | N/A |
| Specification | N/A |